Ontario entering four-week province-wide shutdown effective Saturday
par Laura Grandis
dans Médecine
— Avr 5, 2021
Non-essential retail stores can stay open, but at 25 per cent capacity.
The government is asking Ontarians to limit trips outside the home to necessities such as food, medication and other essential services.
Some outdoor activities will be allowed such as golf, but team sports will not be permitted.
The premier used the term "shutdown" to describe the new restrictions, but what does that mean?
Since the start of the pandemic, the government has added 3,100 new hospital beds. We are now fighting a new enemy. No indoor social gatherings are permitted and outdoor gatherings are limited to no more than five people.
In-person dining (indoor and outdoor) is prohibited.
Weddings, funerals and other religious services will be capped at 15 per cent of regular indoor capacity.
Two-thirds of the province's public health units are now under what the government calls lockdown (grey zone) or control (red zone) restrictions.
When asked about the new restrictions, Ford said early Thursday that it was a "tough decision".
In addition to his strong encouragement for everyone to get vaccinated when available, Ford said, "The next four weeks are our best chance to save lives and to make sure this summer we can get things open and get back to our lives. One thousand percent, it's the right decision", said Ford.
"We need to take action now", says Ford, noting the situation is not unique to Ontario, as provinces across the country as well as some states are facing similar challenges".
"We will get through this if we all work together, and I assure you that brighter days are on the horizon", said Premier Ford in closing.
Health Minister Christine Elliott said the shutdown does not include a stay-at-home order, because last time there were tremendous ill effects on both children and adults.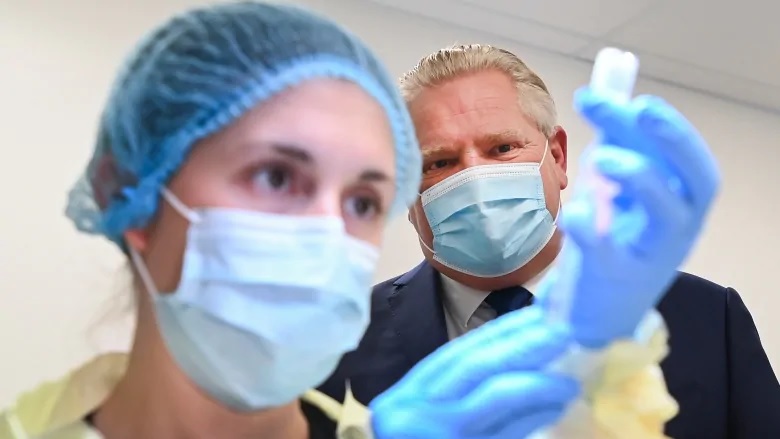 "We can not vaccinate quickly enough to break this third wave".
By applying this "emergency brake", we will bridge the gap until the mass amounts of vaccine anticipated for delivery arrive in Ontario in the next few weeks.
On Thursday, officials reported more than 2,500 new cases of COVID-19, a almost 14% increase in hospitalizations and ICU admissions increasing dramatically.
With more than 800 admissions - nearly double what was seen in the height of the second wave - it is "definitely possibility" that doctors would have to implement a triage protocol, stated Brown.
"The current measures and framework are not working to contain the spread of this virus", reads the letter in part.
The province said 147,749 doses of a COVID-19 vaccine were administered since Thursday's report.
The peak of 800 is expected, even if the province implements a stay-at-home order and continues vaccinations.
For more than a week in Ontario, the daily case numbers have been more than 2,000.
Up until now, patients who eventually tested negative-but were still in the ICU due to COVID-19 complications-were taken out of the province's reported daily total.
Advisers said new pandemic modelling indicates the third wave is being driven by more deadly variants.
The province of Ontario is entering into a new category of its COVID-19 response framework, which will see new restrictions and limits on gatherings.
"We are in the third wave of the pandemic".
Schools are slated to reopen after the end of this week's postponed spring break, which concludes on April 9. He took to Twitter to speak about one of his patients, a woman in her 40s, who contracted the disease from her husband - an essential worker at a factory where there was an outbreak - because he could not afford to take a paid sick day off work.