Rhonda Fleming, star of classic Hollywood films, dead at 97
Her secretary, Carla Sapon, confirmed the news to The Hollywood Reporter.
Fleming appeared in more than 40 films and worked with directors such as Alfred Hitchcock on Spellbound, Jacques Tourneur on Out of the Past and Robert Siodmak on The Spiral Staircase. She was also well-known for her presence in film noir, particularly as the scheming Meta Carson in 1947's Out of the Past.
She excelled in bad-girl and femme fatale roles, appearing in projects like Cry Danger (1951), While the City Sleeps (1956), The Killer Is Loose (1956), Inferno (1953), and Slightly Scarlet (1956). In 1957, Fleming made her stage musical debut in Las Vegas at the opening of the Tropicana Hotel's showroom.
Born Marilyn Louis in Hollywood, she attended Beverly Hills High and was discovered by the famous agent Henry Wilson while on the way to school, she told the Warner Bros. podcast. Wilson changed her name to Rhonda Fleming and she was then signed to a contract with David O. Selznick. After earning her first starring role in Adventure Island, she auditioned for her part in Connecticut Yankee, a musical that allowed her to showcase her singing chops. She duetted with Crosby on "Once and For Always" and sang solo on "When Is Sometime". Notably, Fleming appeared opposite Ronald Reagan in four films from 1951 to 1955, including The Last Outpost and Hong Kong.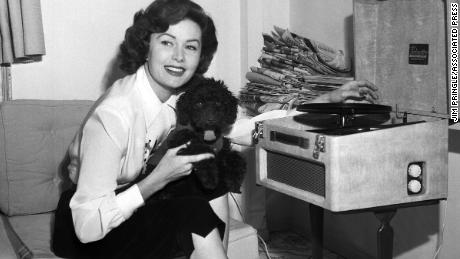 In television, Fleming guest-starred in Wagon Train, Police Woman, The Love Boat, was in a special of McMillan & Wife.
Fleming was married six times, and her final husband was theater chain mogul Ted Mann (of what was formerly Mann's Chinese Theatre), who joined her in her philanthropic efforts. She also founded the Rhonda Fleming Mann Resource Center at UCLA.
She was also a humanitarian and philanthropist, establishing the Rhonda Fleming Mann Clinic for Comprehensive Care for Women with Cancer at the University of California Los Angeles (UCLA) and the Rhonda Fleming Carlson Inspiration Garden at Providence Saint John's Health Center in Santa Monica, as well as welfare centres for the homeless.
Fleming is survived by her son, Kent Lane, granddaughter, Kelly Harman (Morgan Harman), granddaughter, Kimberly Coleman, and great-grandchildren Wagner Harman (Lindsay Harman), Page Harman, Linden Harman, Lane Albrecht, Cole Albrecht and two great-great grandchildren, Ronan and Kiera Harman.