Daniel Prude's death shows a culture of 'callousness' in Rochester Police Dept.
par Thibaud Popelin
dans Monde
— Sep 15, 2020
His death has sparked almost two weeks of nightly protests and calls for Warren's resignation after his relatives released police body camera video and written reports they obtained through a public records request.
Importantly, the report includes an email from former Police Chief La'Ron Singletary dated April 10, 2020 to Records Access Officer Justin Roj, in which Singletary states, "t$3 he Mayor has been in the loop on such since 3/23".
The police initially described Mr Prude's death as the result of a drugs overdose.
"Before Autopsy, have some background info to give you", the lieutenant wrote to the medical examiner's confidential assistant one day after Prude's death.
"Chief Singletary moves drug intoxication to the top line and changes the line about physical restraint to "resisting arrest" - even though the BWC footage clearly shows Mr. Prude NEVER resisted arrest", the report states.
Mayor Lovely Warren fired Police Chief La'Ron Singletary on Monday and called for a federal review of the NY state case. Warren also suspended two top-ranking city officials.
"This initial look has shown what so many have suspected, that we have a pervasive problem in the Rochester Police Department", Warren said at a hastily arranged press conference, according to The Associated Press. "It shows that Mr. Prude's death was not taken as seriously as it should have been by those who reviewed the case throughout city government at every level".
Neither the chief nor the city responded to requests for comment about the litigation. Singletary could not be reached for comment.
Deputy Chief Mark Simmons was named the acting chief for the next 30 days, according to city spokeswoman Jessica Alaimo.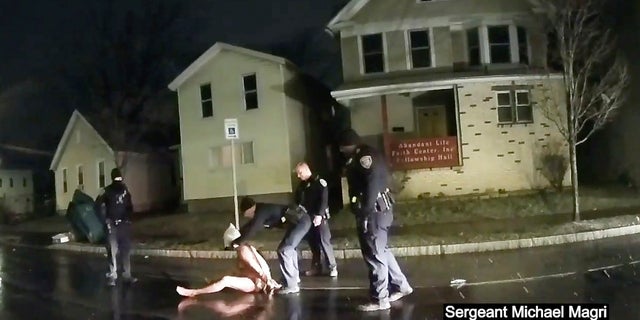 A Rochester police officer puts a hood over the head of Daniel Prude on March 23
Additionally, the mayor is also calling for public transparency with criminal investigations involving officers in an effort to "adopt and embrace a robust process driven by an engaged public to bring systemic reform to the Rochester Police Department, City Hall and beyond to remove the pervasive culture of insularity and acceptance from law enforcement".
She also directed the city's Office of Public Integrity to investigate and determine if she or any city employee violated city policies or ethical standards.
City Corporation Counsel Tim Curtin, who was suspended Monday, has been an attorney with the city of Rochester since 1994.
'I have apologized to the Prude family and this community for the failures that have happened along the way, including my own as mayor.
Roj said he accepted his suspension, but claimed that he was not aware of what happened to Prude until August 4.
Warren did not say who would oversee the department after Singletary's departure but said she was looking for an interim chief to hold the position until June 2021.
Curtin could not be reached by phone to comment on his suspension.
In addition to requesting a Justice Department investigation, Warren said the city will be hiring an outside firm to "review all training manuals, regulations and general orders that govern the conduct of Rochester police officers".