Mass Casualties Expected After Passenger Jet Crashes in Karachi, Pakistan
par Thibaud Popelin
dans Monde
— Mai 23, 2020
Flight PK-303 from Lahore was about to land in Karachi when it crashed at the Jinnah Garden area near Model Colony in Malir, just a minute before its landing, a report said.
Army, and police personnel also reached the site to assist the rescue operation as narrow streets hampered the movement of rescue vehicles.
Footage from the crash showed plumes of smoke rising from the remains as rescue workers and officials scrambled to get to the victims.
A senior civil aviation official told Reuters it appeared the plane was unable to lower its landing gear.
Photo taken with mobile phone shows smoke rises from the plane crash site in southern Pakistani port city of Karachi on May 22, 2020.
Mr Khan tweeted: "Shocked & saddened by the PIA crash".
Reports said the flight captain had informed about a "technical snag".
Pakistan's civil aviation authority allowed limited domestic air travel to resume Saturday after a two-month suspension imposed as part of efforts to contain the spread of the coronavirus.
Purported audio of the conversation between air traffic control and a pilot for the second attempt was published by Pakistani media outlets, in which the pilot is heard saying the plane has "lost engines".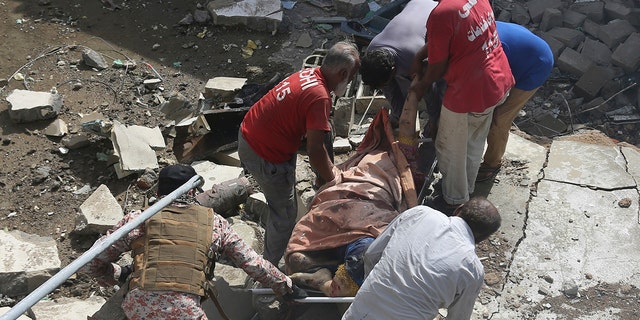 Volunteers carry the dead body of a plane crash victim at the site of a crash in Karachi Pakistan Friday
The plane was an Airbus A320, according to Sky News.
"Sir - mayday, mayday, mayday, mayday Pakistan 8303", the pilot said before the transmission ended. Moments before the plane crashed, the pilot, Sajjad Gul, had told the air traffic controllers that the aircraft had lost an engine, according to audiotapes of his last conversation played by Pakistan's ARY news channel.
A CAA representative couldn't immediately confirm the number of casualties and said the authority was waiting for more information.
Ambulances and rescue officials arrived at the scene to help residents. The pilot was informed that two airports were available for landing he chose to go for a round and crashed.
A resident of the area, Abdul Rahman, said he saw the aircraft circle at least three times, appearing to try to land at the airport before it crashed into several houses.
Prime Minister Imran Khan tweeted that he was in touch with the airline's CEO and that an investigation would be conducted soon. Immediate inquiry will be instituted.
Pakistan International's chairman resigned in late 2016, less than a week after the crash of an ATR 42 turboprop killed 47 people. "Our condolences to the families of the deceased, and wishing speedy recovery to those injured", he wrote on Twitter.
Meeran Yousuf, the media coordinator to the Sindh health minister, told local media that emergency has been declared in all major hospitals of Karachi.