Female Police Officer Has Chunk Of Hair Ripped Out In Vicious Attack
by Thibaud Popelin
in Monde
— Jan 14, 2018
PC Emma Agyei was left in tears after the incident on May 20 past year.
On May 2017, PC Emma Agyei was forced to the floor by a 24-year-old man who ripped out chunks of her hair as he beat her.
Image: PC Emma Agyei lost some of her hair in the attack.
It also shows PC Agyei placing clumps of hair into a plastic bag to be used as evidence later while being comforted by her colleagues. Other officers can be heard asking Agyei if she is OK, "I'm fine", the distressed officer says.
The man, who has not been named, was later handed a 12 week suspended sentence after pleading guilty to assault.
This is the shocking moment a female police officer screams in terror as a thug tears chunks out of her hair.
West Midland Police said the footage was being released to highlight cops being assaulted and abused in the line of duty.
"We will be making sure that for each prosecution of an assault on one of our officers or staff, the court understands the impact this has on us, our families, our workplace and the policing of the West Midlands", Thompson said.
Two police officers are assaulted or racially abused every day and 669 assaults on staff were recorded between April and December a year ago.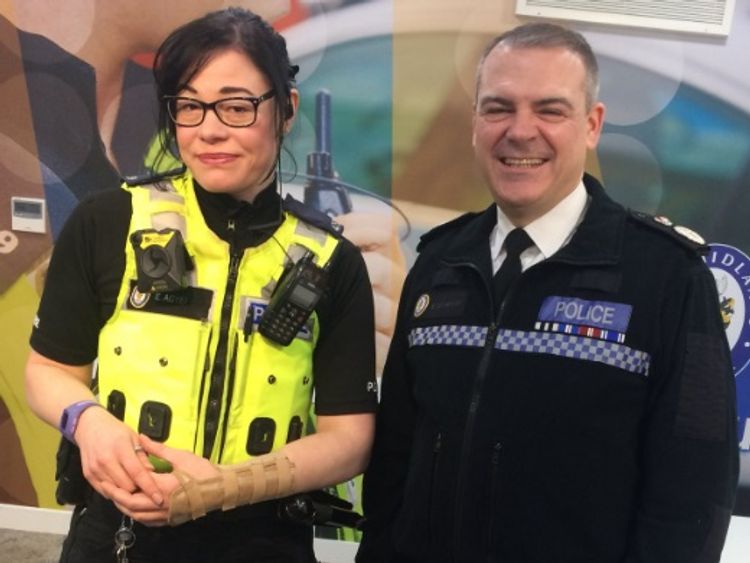 Image PC Emma Agyei and Chief Constable Dave Thompson. Pic West Midlands Police
Police and Crime Commissioner David Jamieson said: "I am pleased that the Chief Constable is getting tough on these unacceptable crimes".
'We need to bring to justice criminals who think that it is okay to abuse and hit out.
Everyday in the West Midlands, two law enforcement staff report being racially or verbally abused or assaulted, the police force said.
In the last three years, 2,336 assaults on police officers have been recorded.
As a result, 356 days were lost as the fearless bobbies recovered from their injuries with a cost - equivalent to around £65,000 in sick pay.
"Time off recovering from a senseless attack is time taken away from the very communities that need them policing their streets and protecting them".
Chf Cons Thompson added: "The figures are unacceptable and we must work harder as a force to protect our officers and staff".
"All too often police officers and staff are subjected to assaults and threats".
"Officers and staff should not have to put up with violence and assaults whilst keeping the public safe. The force will do all in its power to bring those who commit such crimes to justice".