Serbia's LGBT hold pride parade, demanding change
by Thibaud Popelin
in Monde
— Sep 17, 2017
Brnabic, 41, made worldwide headlines in June when she was selected to be prime minister by her predecessor, Aleksandar Vucic, after he was elected president.
Serbia's lesbian prime minister is set to take part in Belgrade's Pride parade on Sunday, an event held yearly under heavy security after previous marches were disrupted by anti-gay violence.
"My message to the citizens of Serbia is that the government will respect the rights of all citizens, both the majority and minorities", Brnabic said before joining the parade.
Carrying rainbow flags, balloons and a banner reading, "For change", pride participants walked through the capital, Belgrade.
They will march under the eye of 2,000 police officers - less than half the number deployed for last year's peaceful parade, said organiser Goran Miletic.
Riot police cordoned off the city centre with metal fences to prevent possible clashes with right-wingers opposed to the march who gathered nearby.
Serbia's embattled gays have faced widespread harassment and violence from extremists.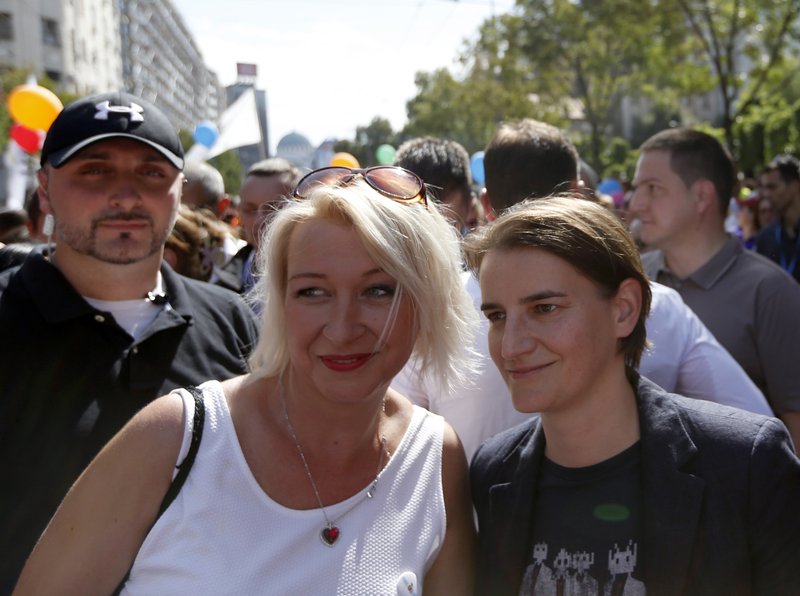 Labor Minister Zoran Djordjevic, Minister of State Administration Branko Ruzic, and Belgrade Mayor Sinisa Mali are also participating in the September 17 parade - the final event of the Pride Week.
In 2010, over 100 people were injured at Pride as right-wing groups clashed with police trying to protect those marching in Pride.
Brnabic was selected to be premier by her predecessor, Aleksandar Vucic, after he was elected president.
Several pride events had been banned before marches resumed in 2014. She had entered politics less than a year earlier as public administration minister.
Asked about the possibility for the same sex marriages to be legalized in Serbia, Brnabic said that the country is taking one step at a time and that the organization of the parade is a clear signal that "the country pledged to respect human rights".
Critics accuse Vucic, who remains the country's most powerful politician, of being a populist authoritarian who has clamped down on media freedom.